Projekt Ich – Where Are The Angels
Label: Echozone | Genre: Electro-Pop | Format: Download / Single | Release: 2017-11-17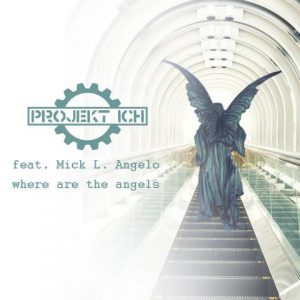 Mit "Where Are The Angels" stellt Projekt Ich alias Ulf Müller erneut seine musikalische Kreativität unter Beweis. Mit der letzten, sechs Track starken EP-Veröffentlichung "Wolkenträne" aus dem Frühjahr 2016 betrat Projekt Ich erstmals die Pfade des Electro-Pops und kreierte unter anderem die beiden erfolgreichen Titel "Wolkenträne" und "Über den Dächern der Stadt" (feat. Connection Closed).
"Where Are The Angels" ist die erste Singleauskoppelung für das im Herbst / Winter 2018 geplante Debütalbum. Für den Gesang konnte Ulf Müller den wunderbaren Mick L. Angelo, einer der beiden Sänger der aus Essen stammenden Synth-Pop Band 5TimesZero (Fusion aus den beiden Ruhrpott Bands In Progress und All The Ashes) gewinnen, der den Song letztlich zudem machte, was er ist.
"Where Are The Angels" ist Melancholie pur in Text und Klang. Wird doch der frühe Tod der Mutter eines kleinen Jungen thematisiert, welcher nach seinem schweren Verlust fortan ohne die wertvolle, mütterliche Fürsorge und Wärme als Heranwachsender im Leben bestehen muss. Was ihm bleibt, sind die Erinnerungen an sie und eine ganze Sammlung von Schutzengeln, obwohl die Mutter nicht gottgläubig war …
"Where Are The Angels" beinhaltet den Originaltitel, zwei Instrumentalversionen, zwölf starke Remixe von internationalen Künstlern, die das Original eindrucksvoll neu zu interpretieren verstanden, und wartet mit einer Gesamtspielzeit von 01:03:29 auf.
Remix-Paket: Cyborgdrive (SPA), An Erotic End Of Times (FRA), Ancient Step (DE), DJTHOMMY (plus Remix-Instrumental Version) (DE), DMT Berzerk (MEX), L_igh_T (IT), Hoof (NL), Minor Einer (DE), DJ Malkavian (BUL), Imunar (DE), Steve (Stefan Käshammer) (DE) und Alex Stroeer (NL).
Das Mastering wurde von Patrick Knoch (Elektrostaub) angefertigt. Tim Aßmann von Visionary Moments hat neben dem Frontcover auch sämtliche Grafiken zur Single entworfen.